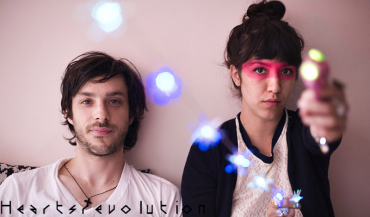 It's been a long time coming for Heartsrevolution, the little punk band that could. And while it's been a rocky road on the way to releasing their debut album, 'Ride Or Die,' it seems that the wait will be well worth it in the end. How do I know? Well, a few nights ago I was invited to Le Baron NYC - the new uber-exclusive nightclub by French club-owner and tastemaker Andre Saraiva - by my girl Lo to check out her first show in over two years!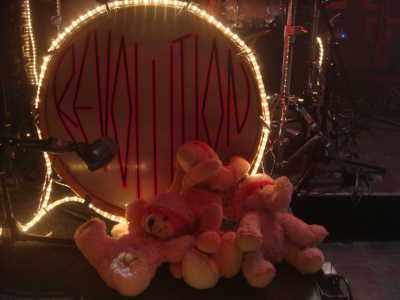 She was sweet enough to put me and a few friends on the guest list to come see her perform and cover the event for Electrocutie, and I'd be lying if I said I didn't feel just a little bit cool when the doorman parted that velvet rope for me. (After all, Le Baron is LE place to be these days!) Inside, the chic little three-floor Parisian-based club and lounge was bathed with sultry red lights and Chinese ornaments, wallpaper, and lanterns, giving off the exotic feel of an old era opium den.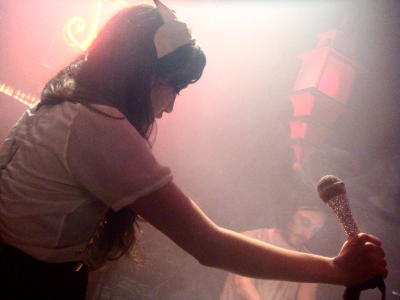 As my little group made our way to the stage (at a puny 5'3, I can't see anything unless I'm front and center) I ran into my girl Neon Hitch, proving again that Le Baron is clearly bringing in a great crowd. After grabbing a delicious French martini for myself, and after exploring the premises for a bit, I found my spot and got comfortable. Not soon after 10 PM, Heartsrevolution took to the stage.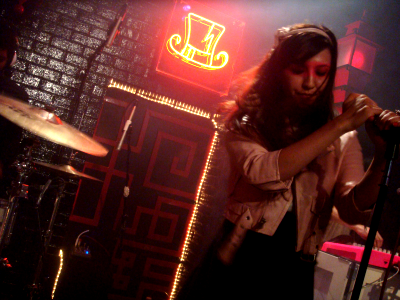 The trio (Ben on keys, programming, and guitar, Prince Terrence on drums, and Lo on vocals) treated the crowd to a full set of new material, throwing in a few older gems and fan favorites like "CYOA" here and there. While I had anticipated more of a showcase with maybe three to four tracks tops, the set was surprisingly long - and very satisfying! New tracks like "Ride Or Die" and "Life Will Tear Us Apart" were definite crowd pleasers, and surely favorites of mine.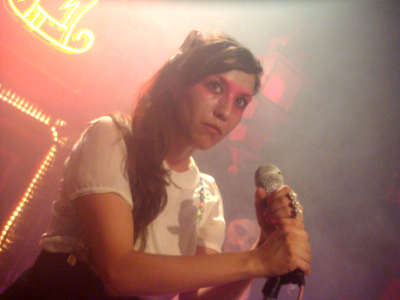 Hardcore electro mixed with riot grrrl antics mixed with post-punk mixed with hip hop would be a pretty good - if not lengthy - description for what occurred on and around the stage at Le Baron. From the pink plush groupies on stage, to the crystallized microphone, to the mini mosh pit that erupted around me, Heartsrevolution christened the debut night of Le Baron's Encore! Monday concert series like no other could dare to.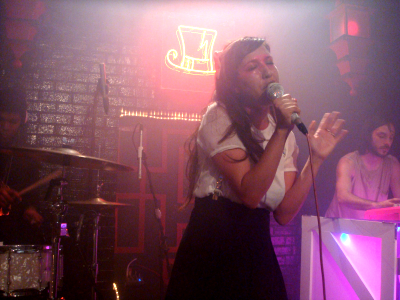 Frontwoman Lo, dressed in a powder pink leather jacket, custom pink platform Chucks, schoolgirl skirt, and crystal suspenders was a force to be reckoned with as she commanded the stage like a seasoned pro (very impressive considering how long ago the last show was). I'm fairly certain that at one point I even turned to my boyfriend (a fan of the likes of Green Day and A Day To Remember) and matter-of-factly remarked, "Now THIS is punk rock."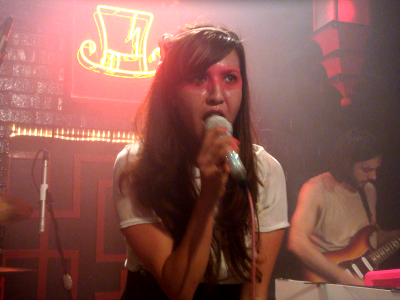 My only wish is that Heartsrevolution's set had been even longer, as the dance-punk trio put on an electric show that sparked a massive dance party and rocked Le Baron to its chic guest-list only rafters. And while I'm excited to see what other artists and bands the new club has booked for its Encore! series, here's hoping that Heartsrevolution gets an encore of their own.