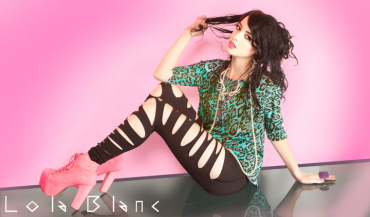 Meet
Lola Blanc
, the super colorful raven-haired beauty that is absolutely going to be your new favorite electro-poppin' electrocutie. The Los Angeles based pop up-and-comer debuted a new electro-pop track today called "
You Like Me
," and it is instantly infectious!
The song starts with a twinkling synth-pop intro, Lola cooing "la la la" atop the beats as they build before the track suddenly topples into a heavy wobbling dubstep drop (a tasteful one, unlike some other awkwardly-placed dubstep homages in pop songs). But the fun really starts when the chorus kicks in, Lola listing off all her less attractive habits ("I'm demanding, I'm stubborn, my makeup's all running!") and singing, "But you really, really like me." You've got that right.
The track is sweet and sticky all at once, with sparkly synths, dirty drops, and bubbly beats that play well into the playful tone of the song. Check out "You Like Me" below:
You Like Me - Lola Blanc
While the adorable electro-pop princess (yeah, we're callin' it!) may be total eye candy with her cute pastel-drenched style and pink pout, it's the ear candy she's serving up that's giving us a major sweet tooth for Lola, and we can't wait for more!
Visit Lola on Buzznet
here
for more information, and stay tuned for more on the synth-pop cutie!