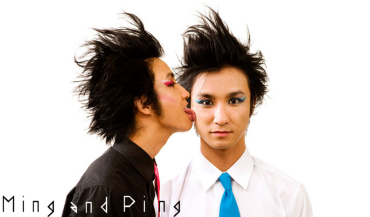 Ming & Ping are an LA-based electro-pop duo that create atmospheric throwback synth-pop. The self-proclaimed "spicy" group, consisting of Hong Kong raised twin brothers Ming and Ping, were sweet enough to have a little chat with Electrocutie regarding all that's new in the land of Ming & Ping. Check out what they had to say below about their upcoming new music, touring with Freezepop, why they're just so damn spicy, and more!
Hey, boys! Thank you for taking some time out to answer a few questions for Electrocutie! Let's jump right into it: What's new in the world of Ming & Ping lately?
We are working on a few new songs and this time we are taking a very minimalist style.
Are you exploring new sounds to make new music with? If so, what is influencing you boys right now?
We're actually taking it back to the old-school with some Kraftwerk influence, and some Giorgio Moroder, and some strange 1990's freestyle as well, ha ha!
Are you two currently working on a new album?
Maybe not a full album, but a small collection of songs. Like, an EP or something.
When can fans expect that to drop?
We have been making tiny short videos with some of our demo songs and you can check our YouTube channel to hear the latest song called in "
The Darkness of Night
." It is very short. But for the whole collection, we will show it to the world before summer-time. Shhh!
You were recently on tour with Freezepop. How was that experience?
We love them. They are so fun, as well as Aerodrone. Very fun and kind babies! Every show we performed together was wonderful and they are so cute. We don't mind to be in a van with them for many days.
Is there anyone else you would like to possibly tour or collaborate with in the future?
We have very big dreams…
Read the rest of our interview after the jump, below!
Are you planning on going on tour again any time soon?
No, not really. But later this year we think we might go to the East Coast of the USA for some shows.
You guys are well known for having incredible and super creative visual to go along with your image and your music. What kind of image or overall aesthetic/look are you hoping to portray?
We've worked with several different styles to match various sounds of our music. Overall, there is not one single look but there is a theme for our visuals, which is always to include pop art style.
What is inspiring you guys right now?
Right now we are quite inspired by city of Los Angeles, the center of the entertainment industry. We are very curious about lifestyle and people trying their best to achieve their dream in this city.
What kind of themes, topics, or emotions do you like to explore within your lyrics and music mostly?
That's a very good question. We think if you listen to our music from the beginning until our recent music, you will see the themes of the city, the themes of identity, and personal relationships. Also, our lyrics are very visual. We usually describe things visually in our lyrics and this is like painting a picture with words, not really like telling a story. This way you can see the picture and imagine your own story.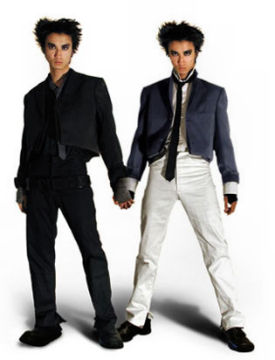 Do you find that your style or music is influenced by your Asian heritage or culture? If so, how?
Yes, very much so. We grew up in Hong Kong so we received a lot of music from the UK and a lot of HK pop music. This was the beginning of our music style. You can see underneath everything is from our Asian heritage, and layered over top is more Western, more urban, and sometimes futuristic themes.
Why did you guys decide to make electronic/new-wave music?
Relating to the previous question, because we grew up with new wave music from the UK and pop music from Asia, this is how we can recycle our life inside the music.
How does the music scene in LA/SF differ from that of Hong Kong?
In Hong Kong, everybody still listens to Usher. Haha! In HK, there is a strong desire for R&B and Hip Hop music from the USA. And there is a lot of club music. We think there is much more diversity in the LA/SF music scene. There is a lot more people experimenting with changing the mainstream genres a little at a time.
What is your ultimate goal for Ming & Ping as a band?
We would eventually like to change our Ming & Ping name to Tyrell Corporation and use inventions that Ping invents to help mankind. For example, we could put the humanoid into the space to help with the mining of precious materials. Or we could invent a replicant for pleasure, like a basic pleasure model. We think this is the future! Also, we would have our own brand of hot sauce. Very spicy.
How did you guys get so spicy? ;)
Well, we were born kind of spicy already. But we watched a lot of Suzanne Somers work out videos, and now we have become mega spicy. You should see our live show, very spicy. The next show we have is February 26th in Pasadena., so we hope everybody in the LA area and Orange County comes to get spicy with us.
Thank you! Is there anything you would like to say to your fans before we sign off?
Yes, of course. We would like to say that the only reason we became the Ming & Ping music group for so many years is because we receive emails, comments, and messages from our fans. We love our fans. They are so supportive. They show us spice every day. And thank you for having an interview with us, Electrocutie. So cute!
Thanks so much to Ming and Ping, Bao Vo, and Taylor for arranging the great interview! Please visit Ming & Ping online here and stay tuned for more info regarding upcoming music.