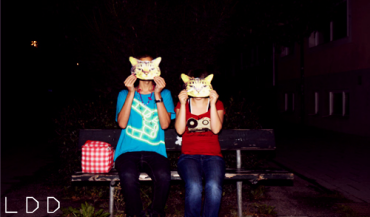 Lissi Dancefloor Disaster
is an up-and-coming dance-punk duo from Sweden. Reminiscent of The Knife or Crystal Castles, the group crafts seriously edgy, ultra infectious synth-rock electronica that is both effortlessly cool and easily accessible all at once. LDD's electro-punk music consist of a riotous flurry of swarming synths, blippy nu-wave beats, and melodic, grainy sing-a-long vocals. Their self-proclaimed "ekotronica" is dark, urgent, and gritty in all the most exciting ways, but polished and catchy enough to satiate even the most unwavering pop fan.
Check out their track "
Mosh Pit Lovers
" below and get hooked:
Lissi Dancefloor Disaster - Moshpit Lovers
Visit LDD on MySpace
here
and on the web
here
where can you hear some of their newest tracks.