Sisely Treasure
is basically the buried treasure of electro-pop. You might not know her by name, but you definitely know her by sound. In the early 00's the synth siren had a string of club hits in her former funktronica project Cooler Kids. After the group disbanded, Treasure tried her paws at becoming a Pussycat Doll on the CW show "Search for the Next Doll." Then she collaborated with mega-producer and dance aficionado Dave Aude on the clubby dance hits "Grass Is Greener" and "Common Ground."
Most recently though, she was featured in popular electro-rock group Shiny Toy Guns as the lead vocalist on their second album. Early this year, however, it was revealed that Sisely had - unfortunately! - left the group and that she is now - fortunately! - pursuing a solo career in synth-pop.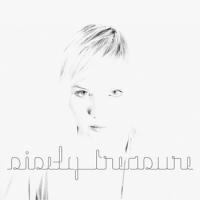 Early in February the singer released her first solo song, "
That You Like
," on her web site as a free download. "That You Like" is a shiny, bubbly-produced dance-pop gem, and blends the line between electronica and pop perfectly. Check it out below:
Sisely Treasure - That You Like
Be sure to visit Sisely Treasure online
here
where you can download her new single for free!