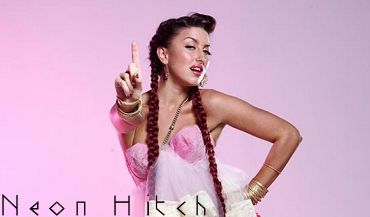 Neon Hitch
is about to become your newest obsession. And for those wondering, yes, that is her real name. The gorgeous London-based artist is currently working with mega-producer Benny Blanco on her debut album, tentatively titled
Beg, Borrow, and Steal.
With her exotic, quivering voice, Neon Hitch crafts insanely infectious - and totally unique - extravagant electro-pop tunes. Her repertoire also includes an impressive selection of genre-hopping song covers and reworks - everything from Ellie Goulding to Snoop Dogg - and she is one of the few artists who (in my opinion) actually surpasses some of the original artists with her unusual interpretations.
Her original songs, though, could be best described, perhaps, as a sort of psychedelic, jazzy, world-infused gypsy electro-pop. Yep. Like I said, she's totally your new obsession!
You can visit her online
here
and be sure to keep your eyes and ears peeled for news on her upcoming video release and album.