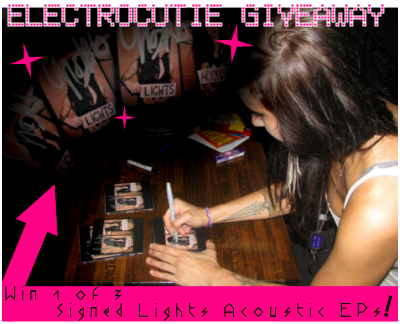 Did you miss out on seeing Canadian electro-pop super-star
Lights
on her 6-date acoustic tour this past summer? Whether or not you caught her on her special summer tour, you now have the chance to
win 1 of 3 personally autographed copies of her 'Lights.Acoustic' EP!
Brought to you as a collaborative joint contest between
Electrocutie Music Blog
and the
Lights-Love
fan-site, fans who entered but did not win the first giveaway on Lights-Love back in August now have three more chances to win!
Entering is simple and the
contest ends on Sunday Nov. 14th.
The three winners will be selected randomly and contacted within one week via e-mail or Facebook message.
How To Enter:
1.) Visit Electrocutie on Facebook - http://www.facebook.com/electrocutieblog - and "Like" our page by clicking on the "Like" button on the top of the page. (If you already "Like" us on Facebook, you can skip this step.)

2.) Post a status update to YOUR own Facebook page with the following message:

'Get Electrocutied' at Electrocutie Music Blog! Discover the best electro, techno, new-wave, synth-pop, dance-punk, and more! Right now, ***@ElectrocutieMusicBlog is giving away 3 signed copies of Lights' special 'Lights.Acoustic' EP. Find out how you can win by visiting www.electrocutieblog.com today!

To post, simply copy and paste the above message into your status update.

***IMPORTANT: Be sure to "@-TAG" our Facebook fan page properly or else we will not be able to find your entry and you will not be able to win! To do this, delete the "@ElectrocutieMusicBlog" portion of the pasted text and begin to retype it starting with "@E…" If you "Like" our fan page, a drop down menu will appear under where you are typing where you can select our page manually. Simply click on our icon and it will automatically tag us in the post.

3.) Then, make sure to go back onto our Facebook page and simply leave a wall post/comment letting us know you entered so we can keep track of all the entries! While you're at it, feel free to suggest our page to all your Facebook friends by clicking "Suggest to Friends" on the top left hand corner of our Facebook fan page!
It's that easy! Good luck to everyone entering and if you need assistant with anything, feel free to ask us via our Facebook page!
Terms & Conditions: All three winners will be selected at random. Contest ends at midnight on Sunday Nov. 14th. Winners will be contacted within one week of selection via email or Facebook message. If a winner does not reply within one week of their notification, they forfeit their prize and another winner will be randomly selected. The first names of the three winners may be announced on our web site and/or Facebook fan page. International participants welcome to enter. Shipping and handling of prize will be provided. All four of the following entry conditions must be met: 1.) "Like" our page, 2.) Post provided message to user status, 3.) Properly tag our page in the message, & 4.) Go back to our page and comment on our wall to let us know you entered so we can keep track. If your entry does not meet all of these conditions, your entry will not count.