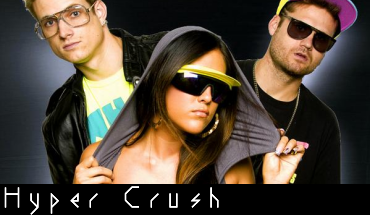 Electro-crunk pop group
Hyper Crush
is well-known for their hyperspeed-paced techno and club-ready, old-school style hip-hop. And though for a while now they've been most prominent in the underground electro scene, a quick listen on any mainstream dance radio station lately may have introduced you to a remixed dance version of one of their latest tracks, "
Keep Up
." If this is any indication, this 80's-tinged party band (think LMFAO meets Ultraviolet Sound) is clearly on the rise.
Haven't heard "
Keep Up
" just yet? Scope the neon-saturated video below!
Even fresher is the explosive dance-floor thumper "
Ayo
" which features a thick bass and a trippy, fist-pump worthy synth line. Check that out right here!
Definitely keep an eye out on this sick group right
here
on MySpace.