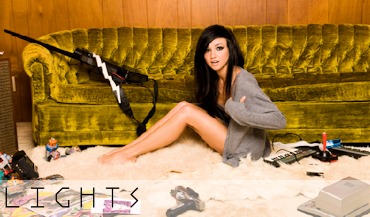 Electro star and bonafide geek princess
LIGHTS
has graced us yet again with one of her stellar, imaginative music videos today with the brand new, visually exciting video for "
Ice
," the second major single off of her debut album '
The Listening
.'
"Ice" is deliciously catchy electro-pop candy and the new video she's created for it is just as fun, featuring our sweet little LIGHTS in a battle royale with - guess who! - her evil persona, DARK LIGHTS!
It's epic, fun, and exhilerating - not to mention completely adorable as usual - and a total visual treat for fans. Check it out below:
LIGHTS - "Ice" Official Music Video
LIGHTS
|
MySpace Video
Visit LIGHTS on the Web
here
or MySpace
here
. 'The Listening' is available on
Amazon
or iTunes
now
!