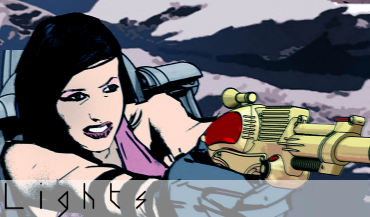 Intergalatic pop-star and comic enthusiast
LIGHTS
debuted her stellar new motion comic animated mini-series today on MTV, MTV.com, and her official Web site. The series, a set of ten 2-3 minute comic-style cartoons called "
Audio Quest: A Captain Lights Adventure
," was created as a joint effort between the singer and Marvel illustrator Tomm Coker.
The sci-fi mini-series follows the adventures of Captain Lights - who is a fierce animated mix of Barbarella, She-Ra, and Lara Croft - as she travels around the galaxy trying to restore music. The exciting story kicked off today with its first installment and episodes will continue to be posted up on Lights' official Web site for the next couple of Mondays.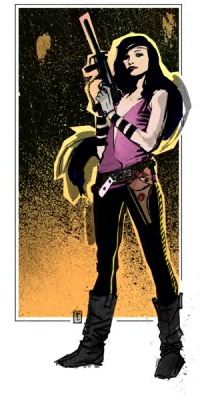 If you're a LIGHTS fan and love comics, sci-fi, and video games, I suggest you check out this stellar project and stay tuned in on the epic story!
LIGHTS' debut album, '
The Listening
,' is out now in Canada and will be out in the U.S. on Tuesday Oct. 6th. "
Audio Quest: A Captain Lights Adventure
" is playing now on
MTV.com
or on Lights' official Web site
here
. Visit LIGHTS on MySpace
here
.